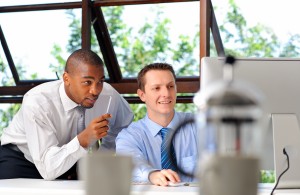 Following the completion of a Community Based Assessment, an individual can participate in a Work Adjustment (WA) program for additional training in building work skills. Work Adjustment will assist an individual in developing or further enhancing their work skills and behaviors in order to move towards employment.
The benefits of the Work Adjustment program is the focus on increasing work performance and addressing issues that would interfere with an individual being successfully employed.
Work Adjustments are conducted at CBA work-sites at the following locations:
Big Lots
Comfort Inn
Save-a-Lot
Humility House
Perkins
Turning Gears' office
Turning Gears is presently searching for companies who have positions to fill to contact us. Turning Gears can partner with you to fill those openings. Turning Gears will cover the prospective employees wages and worker's compensation allowing you to see if that individual is a good fit for your company. Turning Gears provides a Training Consultant to train the individual on the job.